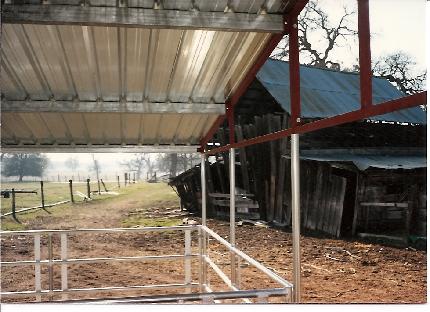 Superior Steel VS Wood

Take our challenge and discover why Superior Barns has no competition when compared to wood. The maintenance on a temporary wood building is high. We say temporary because the longevity of a wood structure can not withstand that of a steel structure. Our Superior buildings can be permanent or moveable, with little to no maintenance involved. We have no warping during shifts in the temperature due to our all-steel framing. Our standard 26 gauge steel (80,000 psi yield). This also means your new building will not burn and can give your insurance agent peace of mind when quoting your new lowered rates.
Your customized or standard structure uses the finest coatings and paint available on the market today. We have found that many companies have little or no warranty on paint and materials and will look terrible in as little as 3-5 years. As seen by many pictures on this site the buildings and structures provided accentuate many landscaped areas. The options are endless from the many colors you the customer can choose from to roof and walls, to the foundation of your choice. Wood structures often use no foundation or simply set on the ground or have only a cement parimeter. We however only use concrete foundations with the strength and longevity you need in mind. We too have several installation methods yet any concerns you may have can all be answered by our professional and knowledgeable staff.
We know that if your here with us, and reading all of our comparison we know you have already decided on a good investment and want that excellent resale value that has already been discovered by our many Superior Barns customers.

Let us make your dream a reality!

The Company Superior Barns:

Larry Turner President & Owner of Superior Barns™ brings to the table over 28 years of Metal Building Construction Experience. We build practically anything that has to do with Welded Construction, from Carports to Show Barns. Our main focus being Farmers, Ranchers and the Horse and Cattle Industry.

Our Construction Team consists of experienced company personnel, our materials are all high quality and our Company Goal is simple: To Provide you with a Quality Metal Building that is built to meet your needs! Our commitment is your satisfaction.

We can provide:

Why Superior Barns™ and Stalls?

Safe Design

Practical

Affordable

Functional

What Do You Need?

Superior Barns™ is the leader in the industry for a practical solution to all of your stall needs.

Superior Barns™ is a full-service manufacturer of livestock panels and arena fencing. All of Superior Barns™ products are made of rust resistant galvanized steel for longevity and superior looks.

Superior Barns™ can manufacture all livestock equipment to your design and specification.


Need help in design or layout?
Our representatives can help you! Call us today!

Call Today for More
Information or a
Quote on your next Metal Building Project

1-800-730-5594

or Email us:




Our success is your satisfaction!